English courseware designed for the new reality of hybrid education
Our digital course brings innovation, technology, and efficient methodologies to your schools, and it is the perfect solution for hybrid English teaching.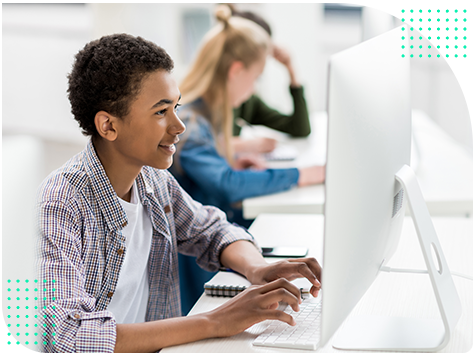 Is your school ready to teach english?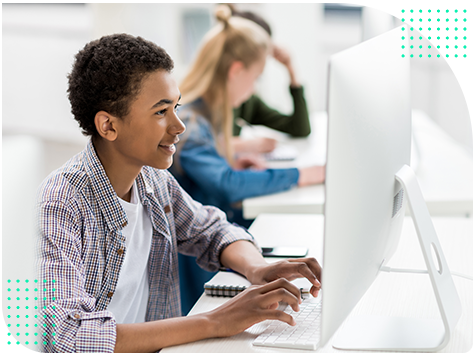 Education is undergoing a revolution. Hybrid teaching and the use of digital technologies in the classroom is already a reality and schools need to adapt.
Our digital courseware is the perfect solution for teaching English in schools that want to keep up with the transformation that is taking place in education.
English that works
Our innovative teaching material is based on a fully interactive teaching methodology, developed for schools that want their students to actually learn English in-house, without the need for external language courses. Check out our differentials:
Hybrid education
Flexge's pedagogical basis is hybrid learning (blended learning), which allows the personalization of learning by combining the use of an online platform with regular classroom activities.
Active methodology
With Flexge, the student studies English in an active way, interacting with the platform, recording their speech, and analyzing the feedback with our pronunciation assessment tool, identifying independently the points in which they need to improve.
Flipped classroom
The challenges proposed by the platform make the student study English continuously outside the school environment, being able to use the time in the classroom for exercises and pedagogical support with their teacher.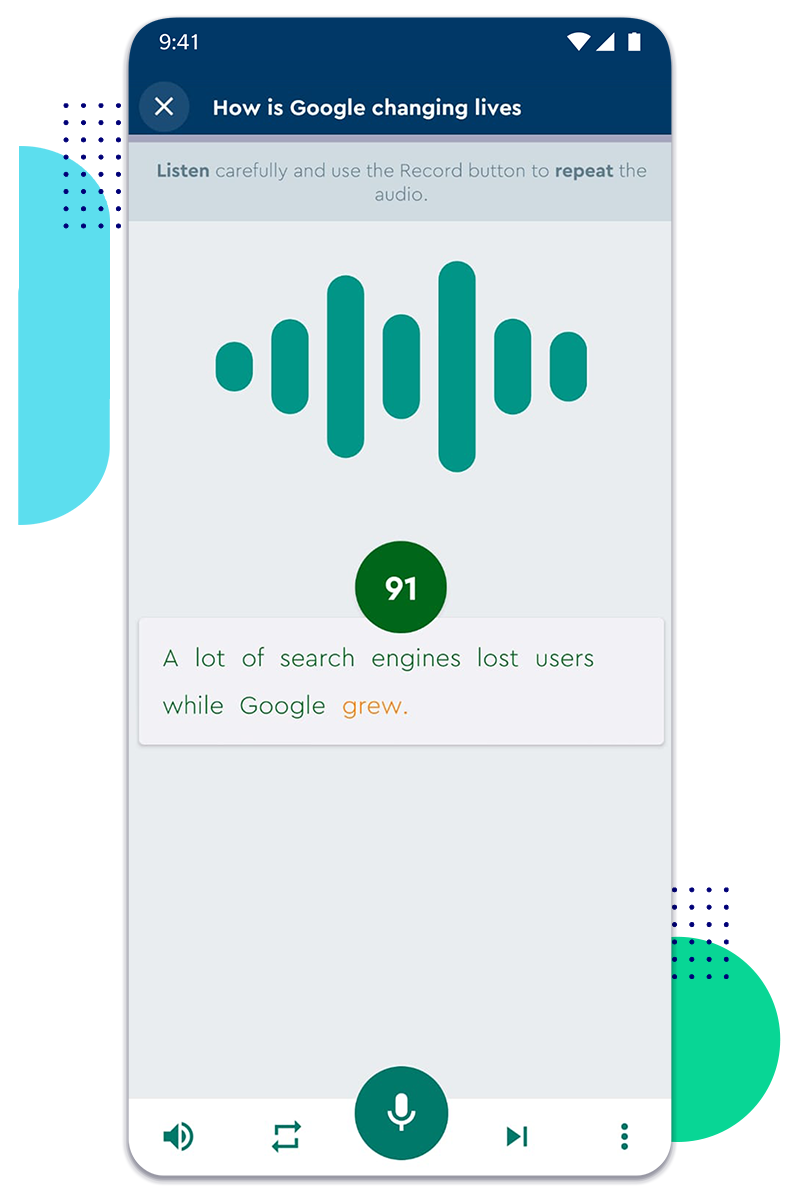 Discover how we can make your school a reference in English teaching!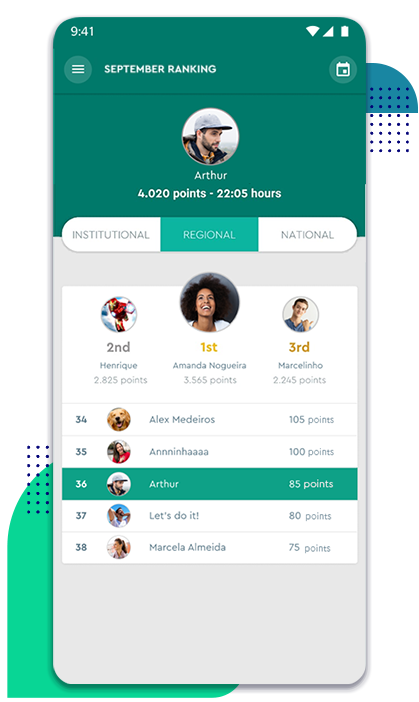 Gamified english course
Make teaching English more interesting and fun, engaging your students and making your school a reference in language teaching.
Scoring system
On our platform, your students earn points as they complete the exercises and advance through the content, participating in fun rankings with other students.
Progressive stage unlocking
Our system works like a game, adapted for children and young people, generating a high degree of engagement and practice from the students.
Achievements
Aligned with the best gamification techniques, our system offers achievement certificates according to the student's performance.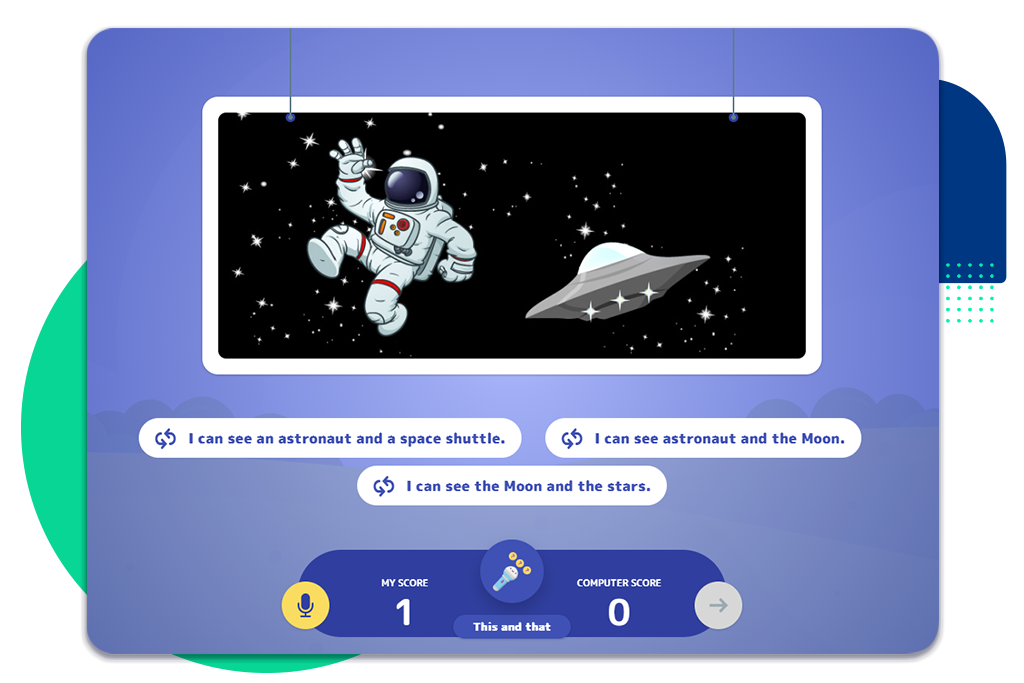 Children from 6 to 10 years old
Innovative English teaching material for children, focused on the development of speaking and listening skills.
Playful teaching material
Fully gamified, Flexge Kids involves children in playful and interactive activities.
Content of pre-a1 and a1 levels
Benefit from a learning path based on the Common European Framework of Reference for Languages that will take them up to level A1.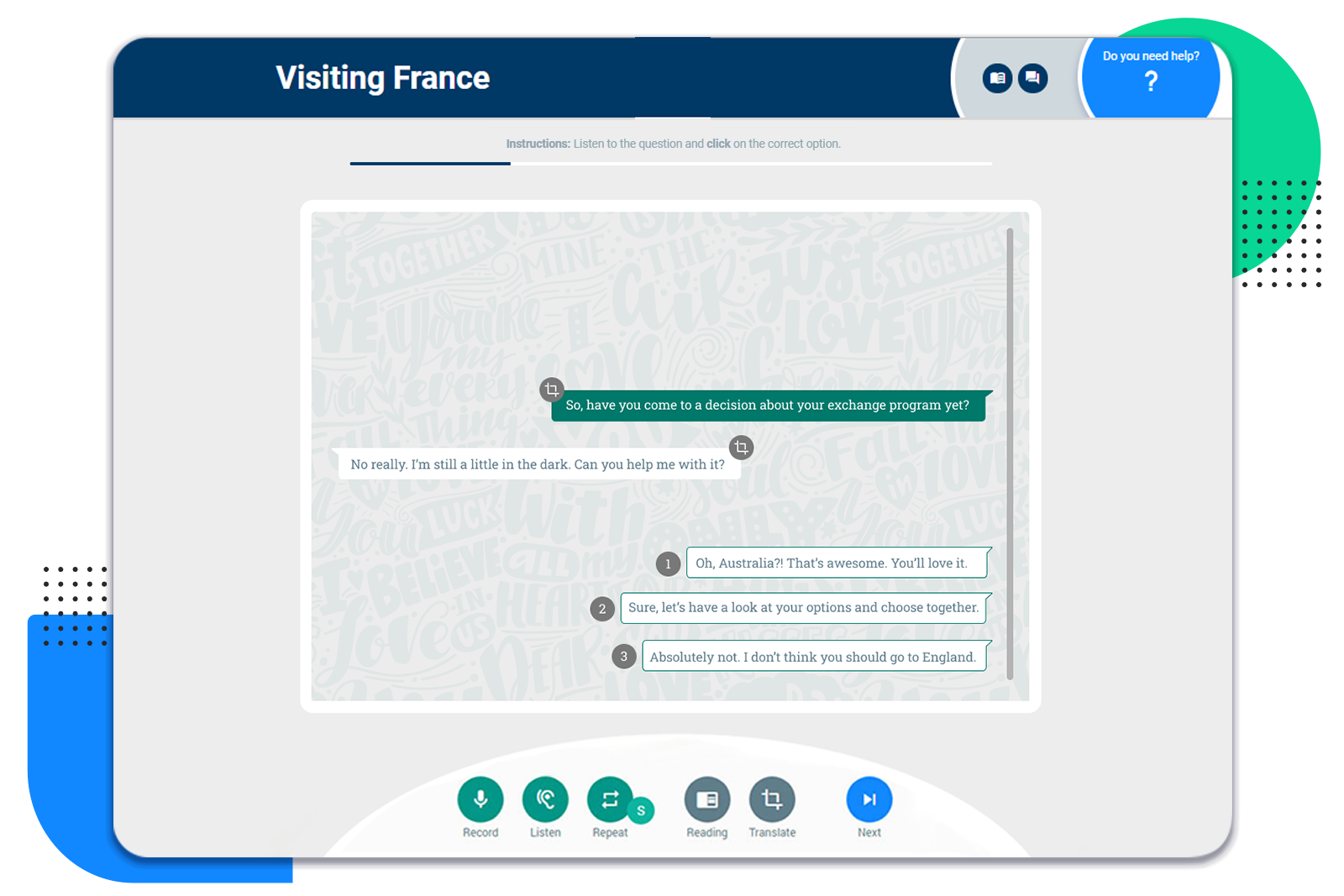 Focus on listening and speaking
It is differentiated by the use of technology oriented to the development of conversational skills in English.
Complete learning path
Work with a learning path based on the CEFR, in which your students advance as their level of proficiency evolves.
Different types of exercises
Our digital courseware has dozens of types of exercises that work on all four language skills, which makes studying less tiring and repetitive.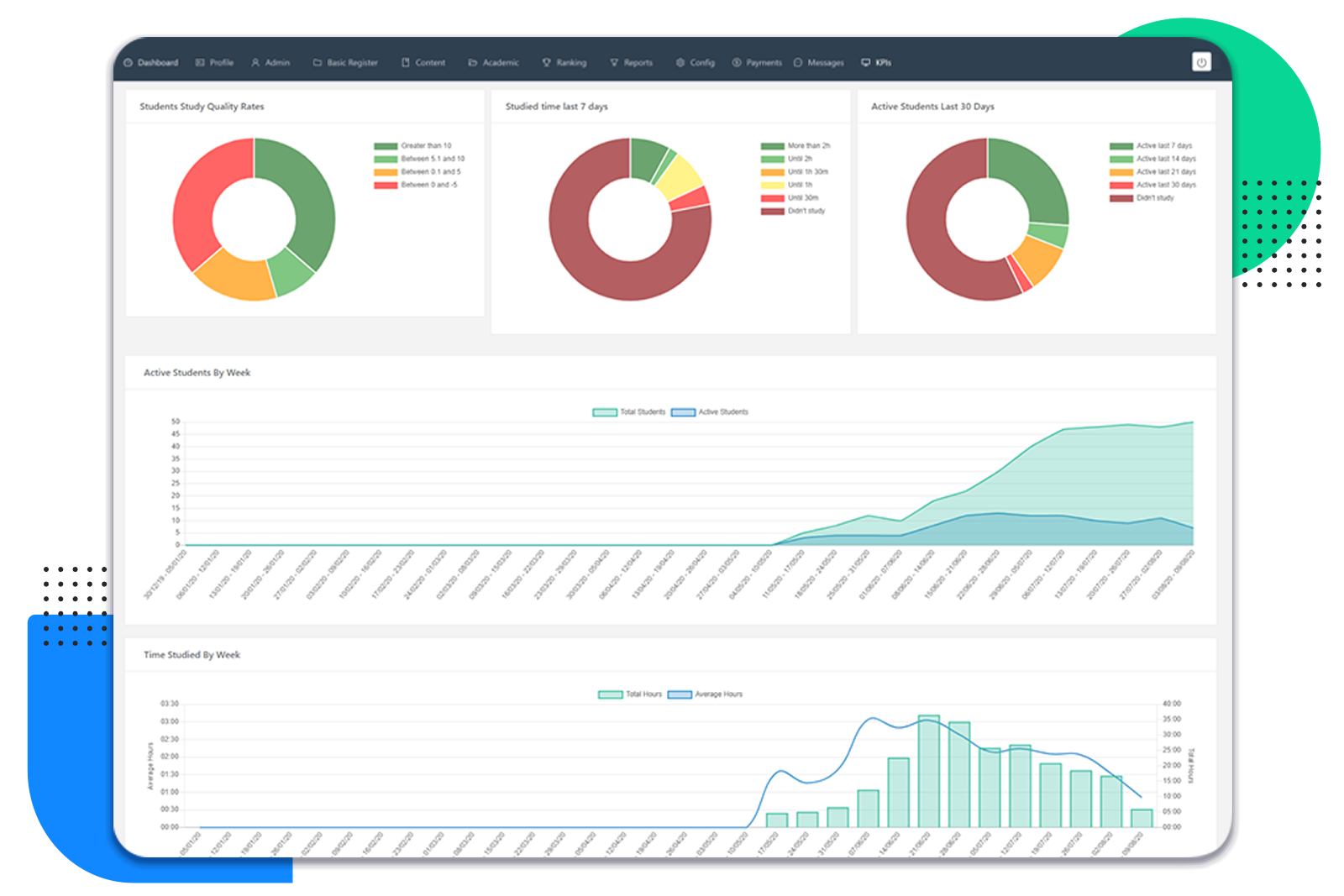 Real-time reporting
Access reports on the evolution in the teaching-learning process of each student, with data that can guide your work.
Discover their difficulties
Based on the reports generated, identify the needs that the student has and target your classes to go deeper into these contents with him.
Manage classes and students
Manage individual lessons or student classes as the pedagogical manager, registering and consulting information whenever you want.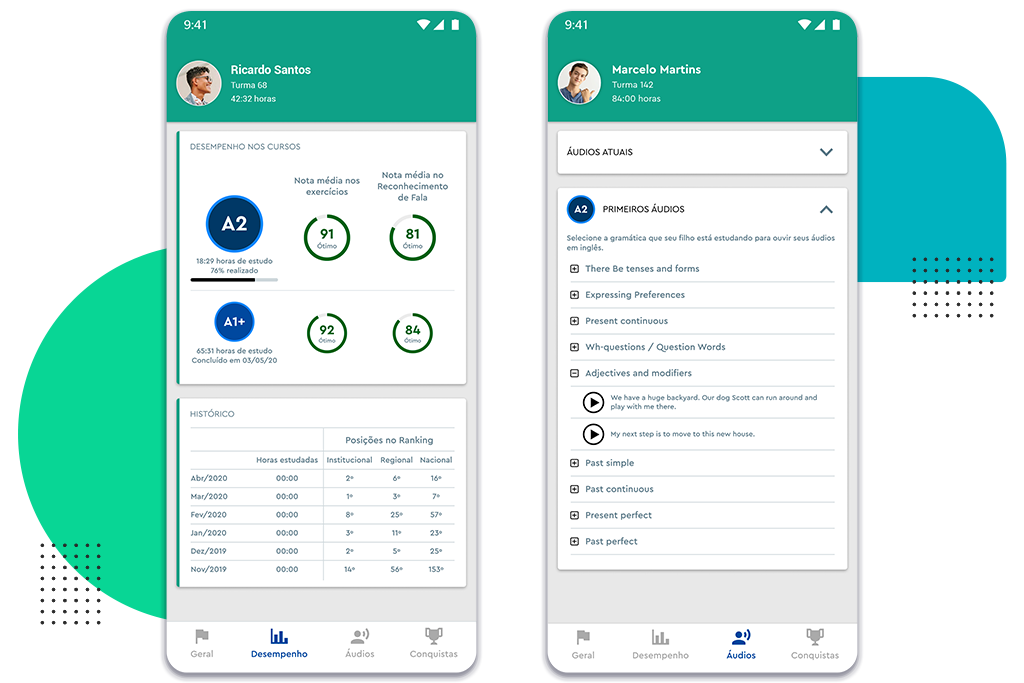 Exclusive app for parents
Provides access to the app we have developed for parents and guardians and involves the family in the teaching-learning process.
Access to the children's audios
Provides tutors with audios of students speaking English and allows parents to observe students' progress.
Customized reports
Gives access to numerous reports of student performance in comparison to international language proficiency metrics.
What our partners say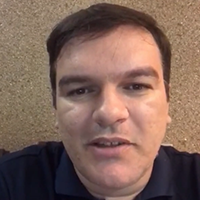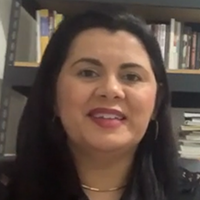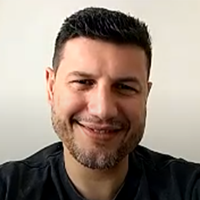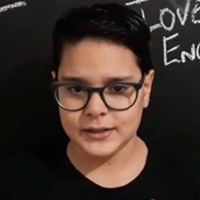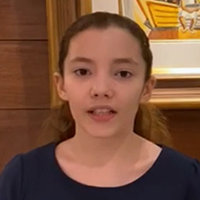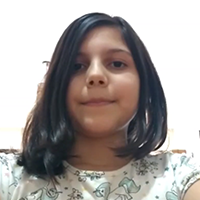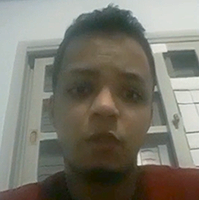 Neverson Lucena
High School Coordinator
"Flexge is a great partner and has been doing excellent work in English for a few years now. Our students have had very productive participation in this process, and it's also a platform that facilitates learning a lot."
Daniela de Moraes
Pedagogical Coordinator
"Our experience with Flexge is very positive. Because it is a gamified platform, learning is very close to the students' interest, who are immersed in the English language in a pleasant and challenging way."
Charles Campos
Teacher
"Another benefit of implementing the platform is the student's perception that they are in an institution that has a technological focus and cares about them, offering them more tools."
Leandro Costa
Student
"Flexge has a very interactive English language teaching methodology. This interaction makes me more and more motivated to study. I set a score goal so I can always challenge myself and this way it gets really fun to learn English."
Fernanda Guimarães
Student
"I really like Flexge because I can do it wherever and whenever I want as long as I have an internet connection, and it also stimulates me to do more and more, because as I advance, it makes more content available."
Camila Belen Pereira Pinto
Student
"In the beginning, I knew almost nothing in English, I started in pre-A1 and I found it frustrating sometimes to do the exercises. Now I think it's fun to do the Flexge exercises and I watch and read in English too, thanks to Flexge."
Thales Goulart
Student
"I have noticed a very big improvement, as the platform contains several subjects, from the culture of different countries to daily life and work subjects. You can really expand your vocabulary."
Discover how our digital learning material works
International standard english certificates
Our digital courseware complies with the parameters established by the Common European Framework of Reference for Languages ​​(CEFR), which classifies the proficiency levels in A1, A2, B1, B2, C1 and C2.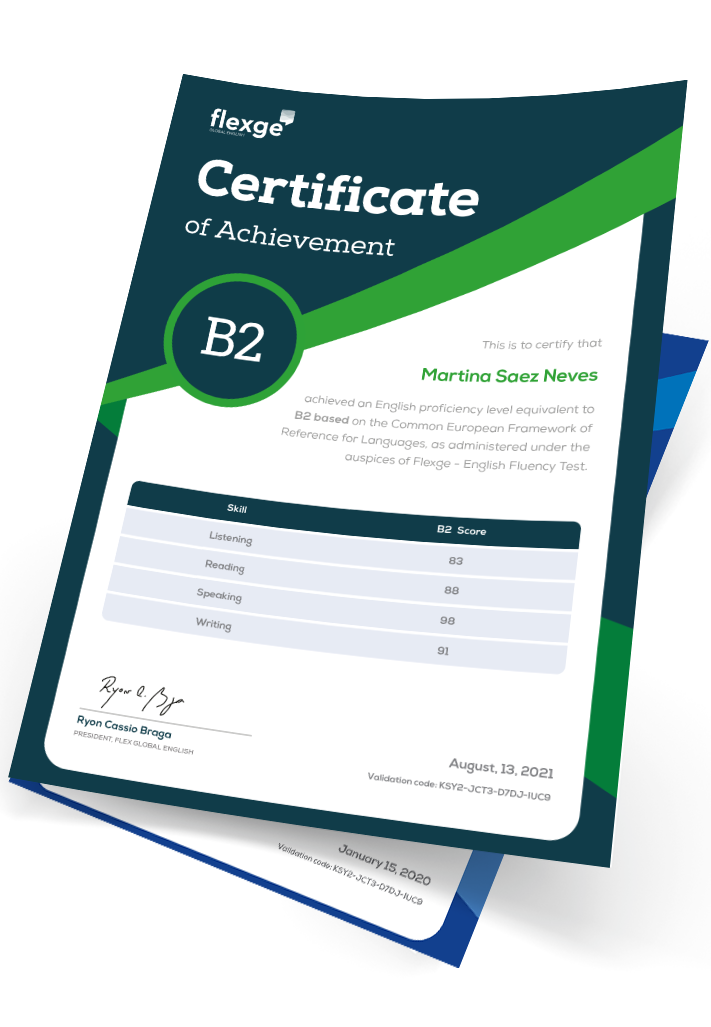 Certified english
Before starting their studies with Flexge, the student takes a placement test on the platform itself to find out their proficiency level.
At the end of each course, the student takes a test and if they achieve the results determined by the CEFR, they are awarded a certificate that proves their language skills.
Verify your certificate's validity
Enter your Flexge certificate validation code in the field below for confirmation.
Celebrate your students' achievements
Organize events to award certificates and reward the achievements of your students in our ranking and celebrate this moment with their families.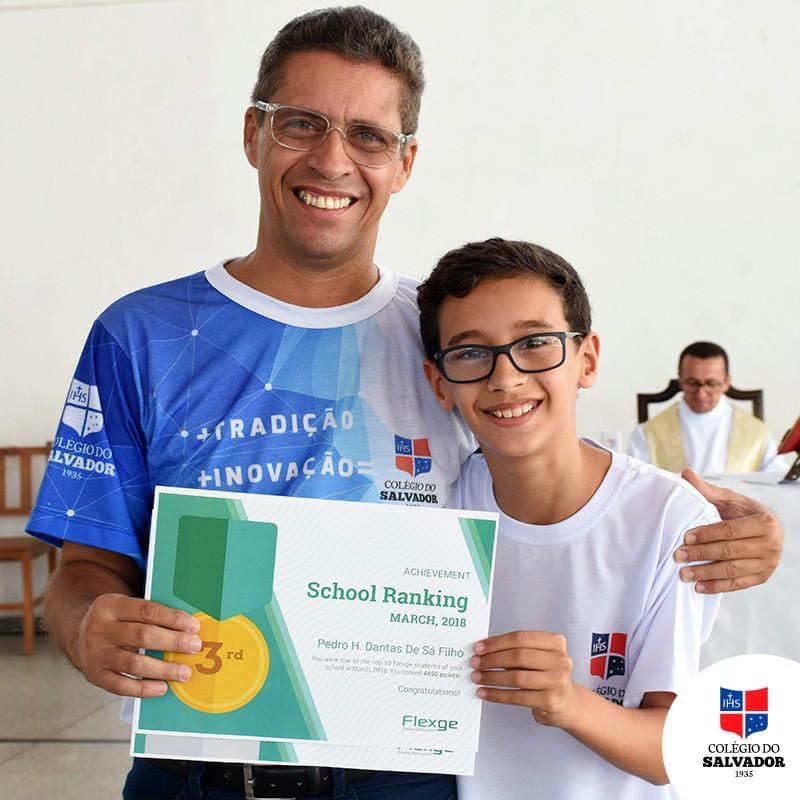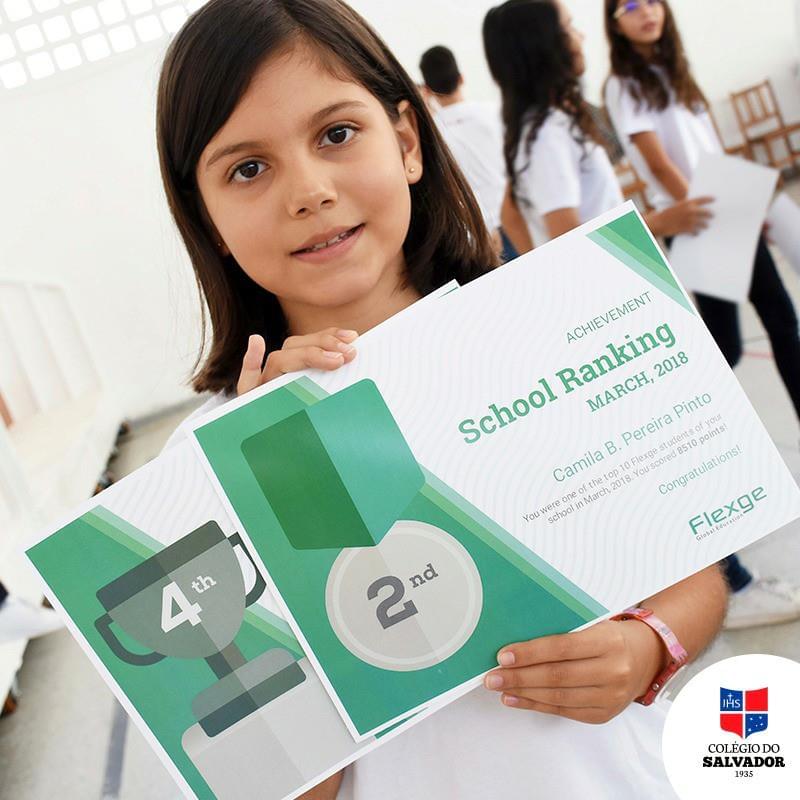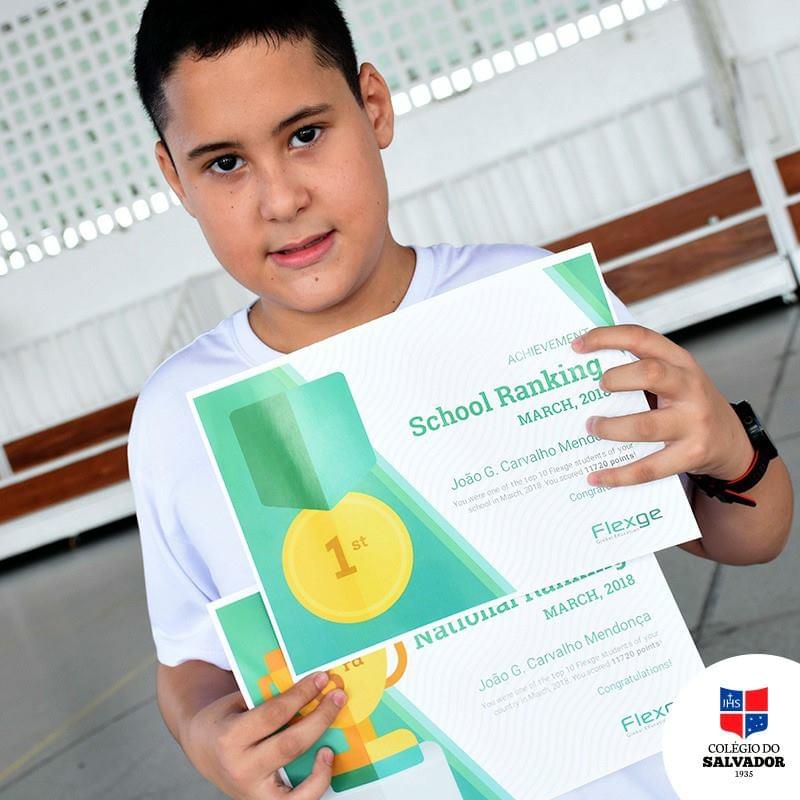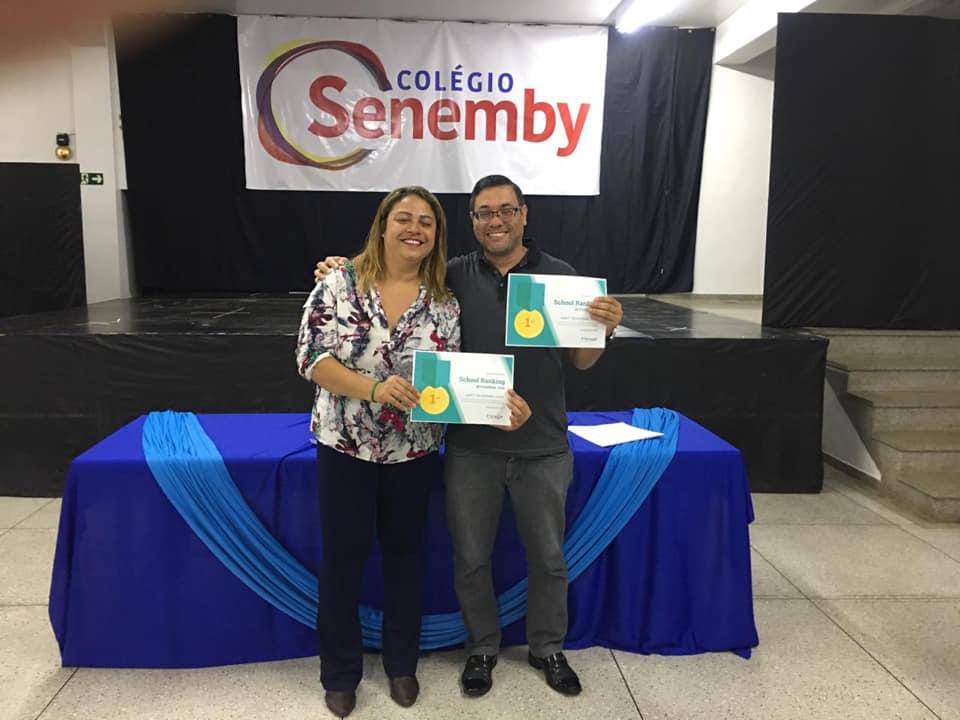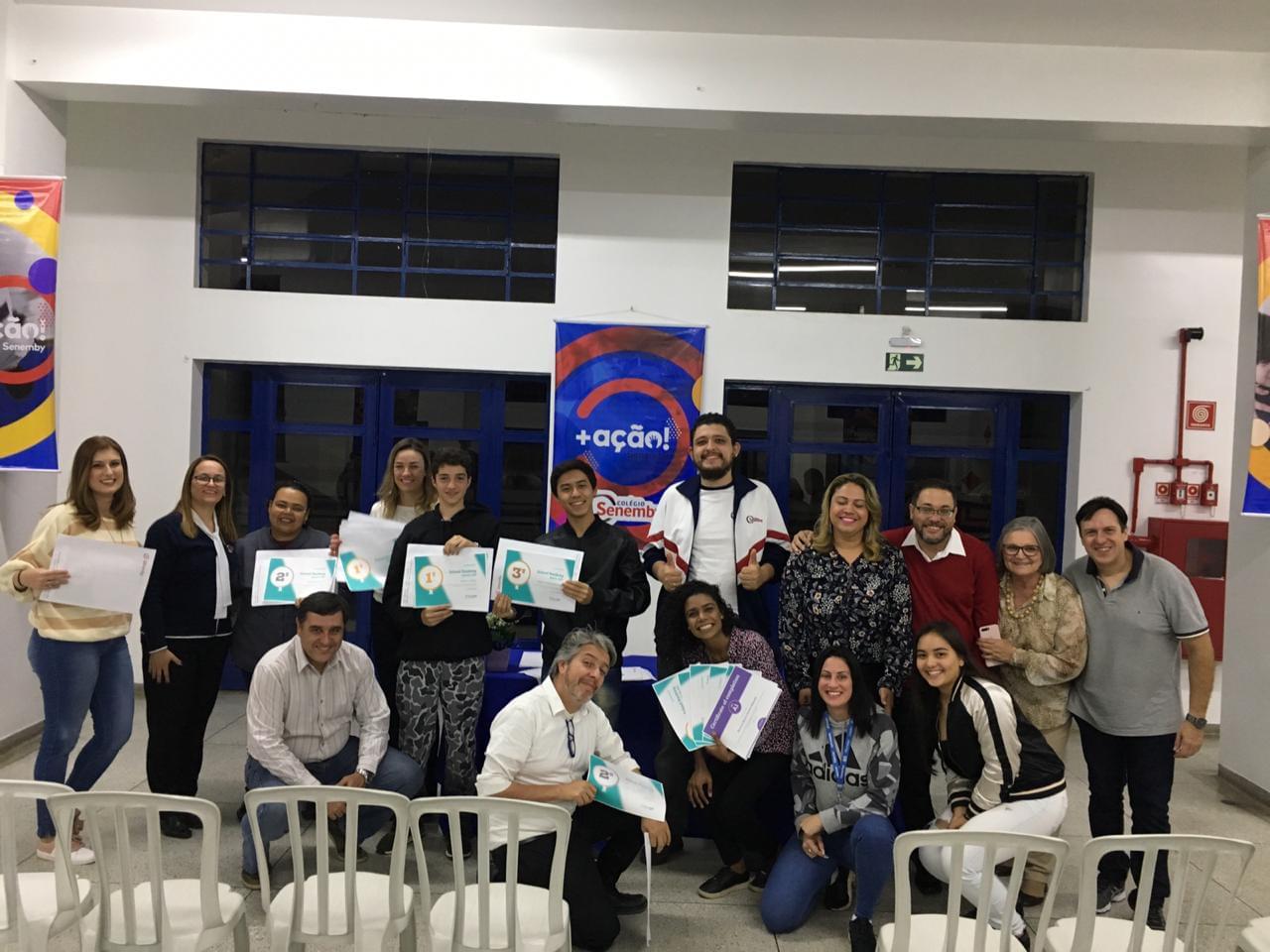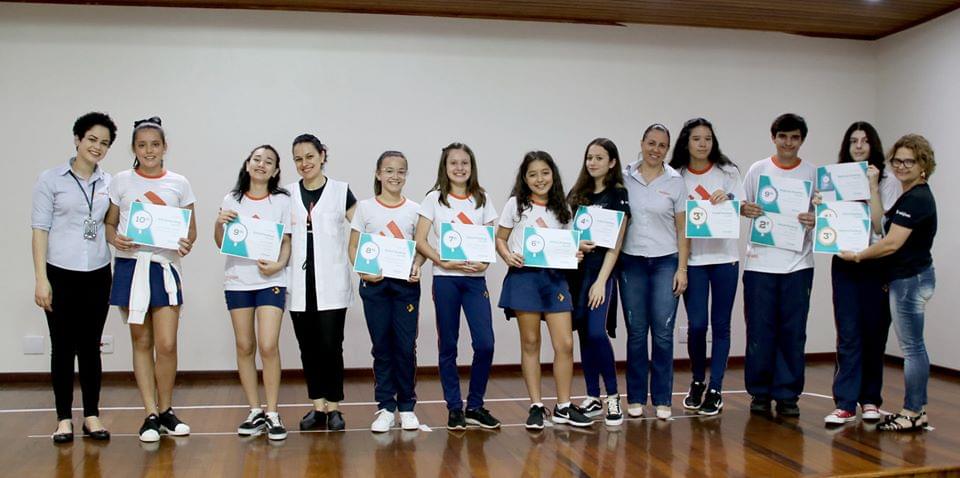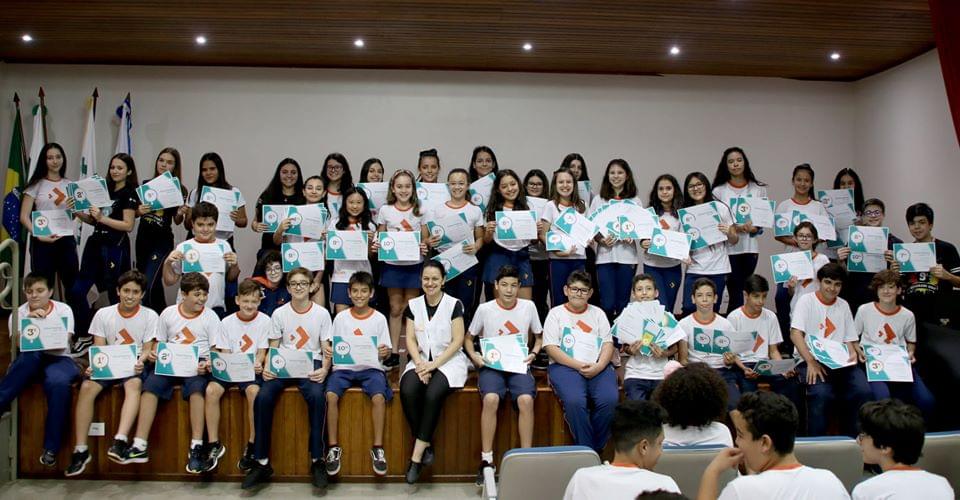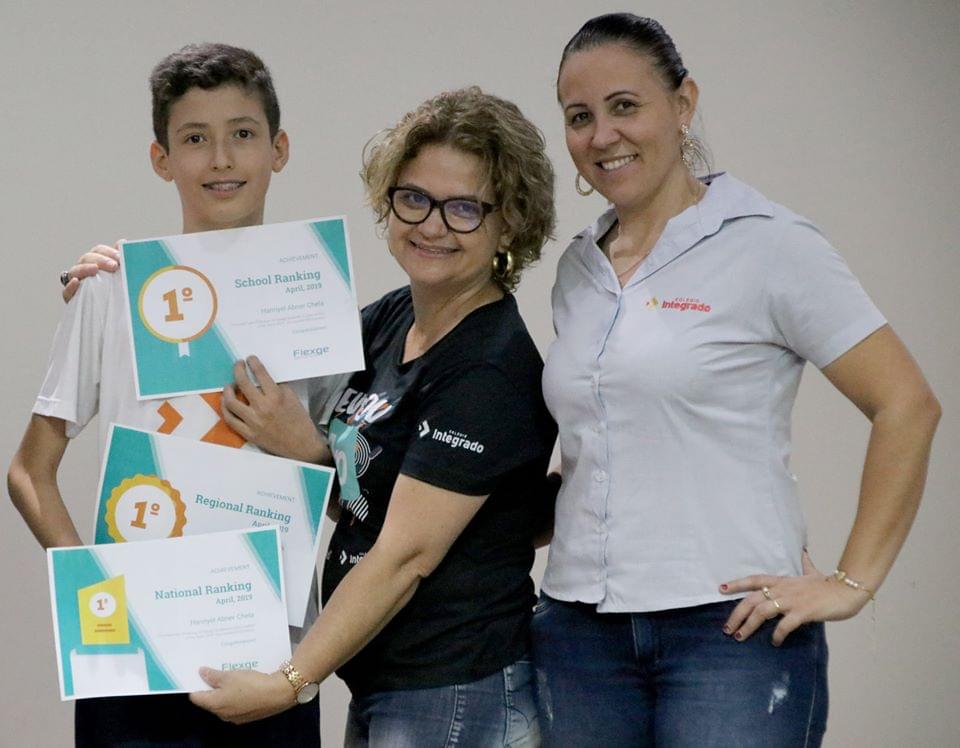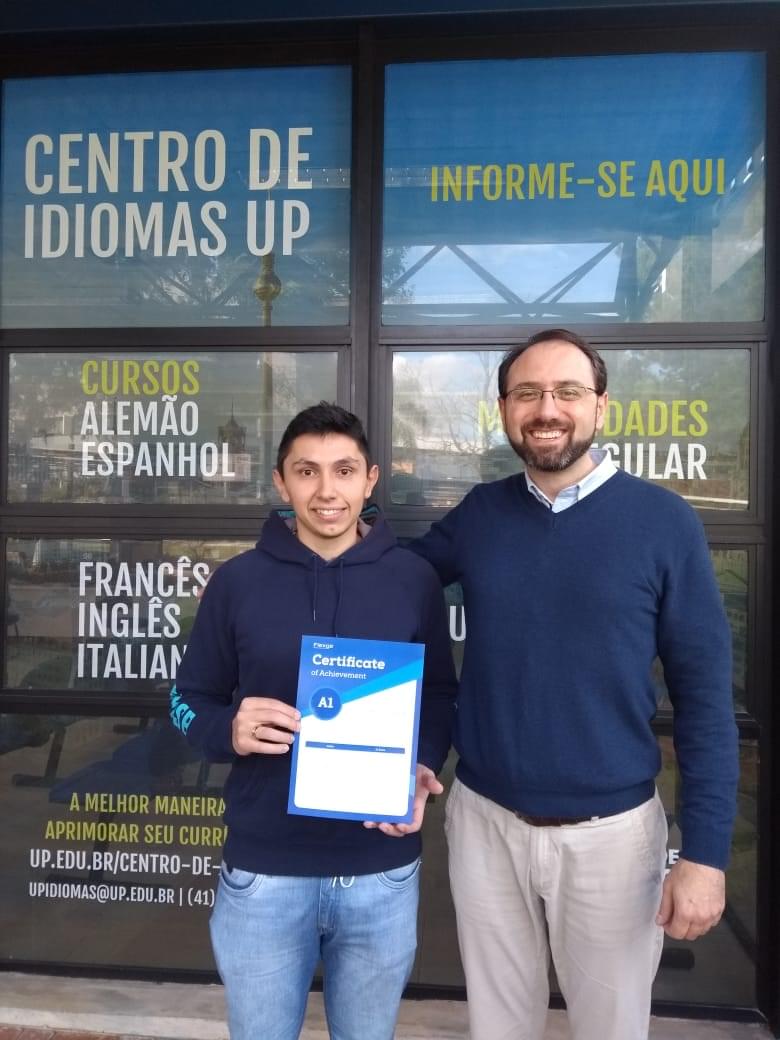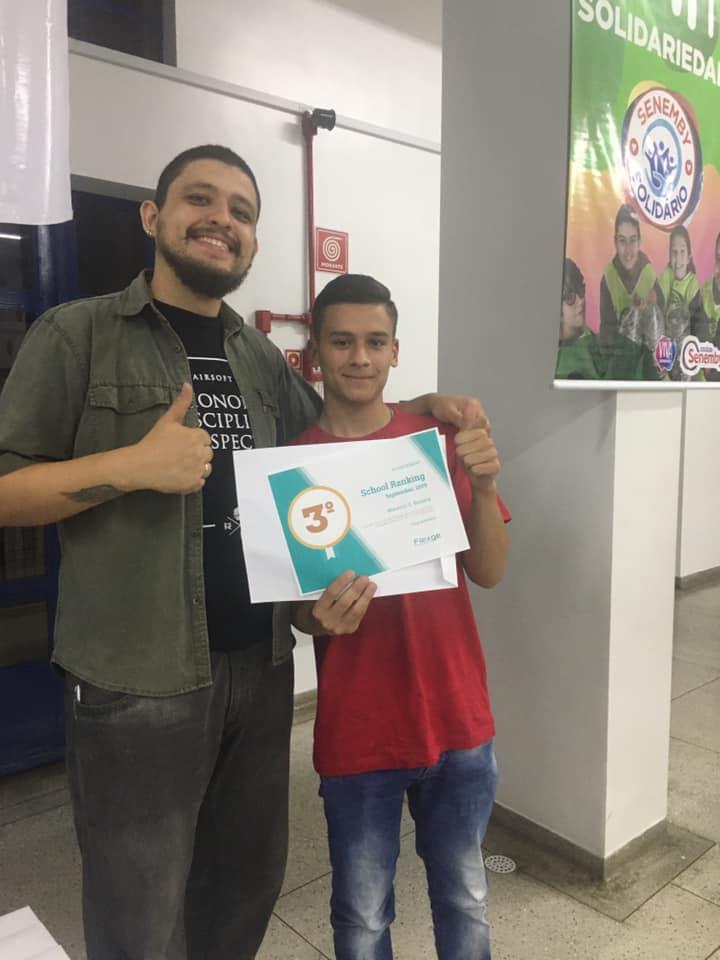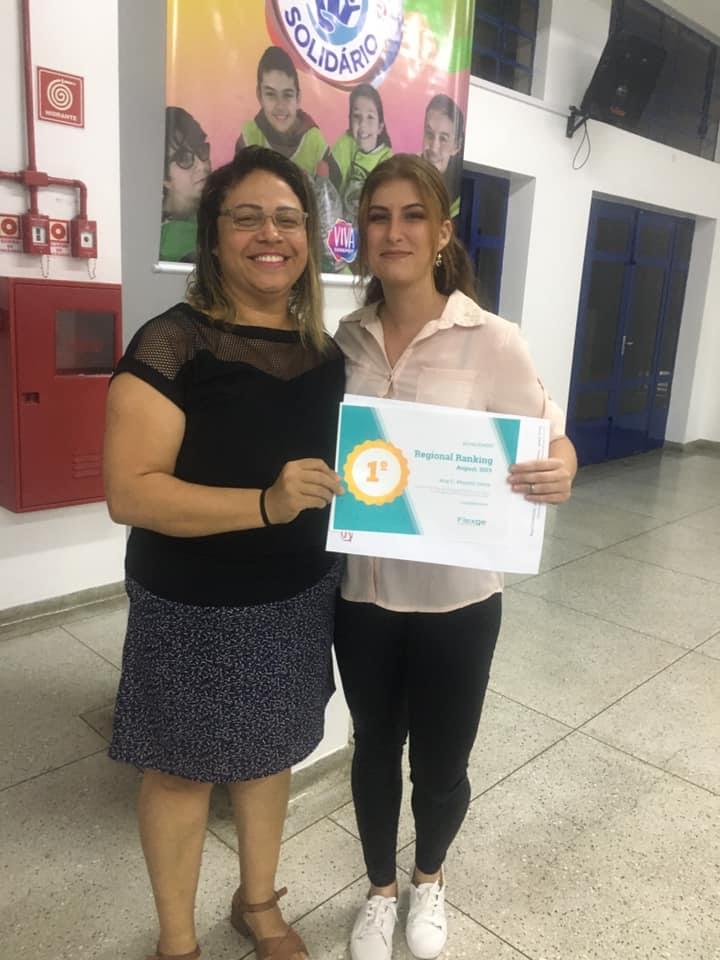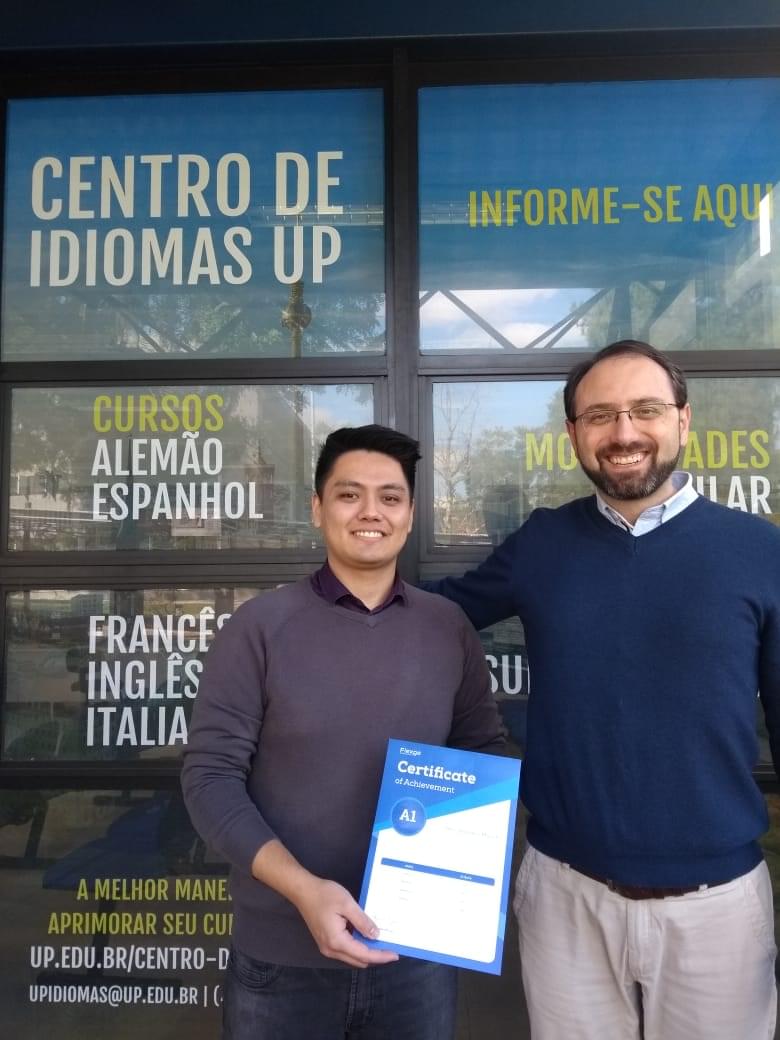 No certificate found for code entered.
Close
Demonstration
Fill out the form below to access the Flexge platform.