THE GO-TO PLATFORM for private english teachers
Improve your English teaching with technology to personalize instruction and make learning more engaging for students. Automate repetitive tasks and free up more time to focus on teaching!
Tired of preparing your lesson plans?
Preparing content for classes can be very tiring. Moreover, this activity takes up a good part of the teacher's time, which could be dedicated to the student's teaching-learning process.
With Flexge, you not only have all the exercises and assessments ready and automatically graded, but you also have access to pre-designed Lesson Plans featuring dynamic and interactive activities.
The best teaching material for private teachers
We are a complete English teaching system, ideal for private teachers who want to improve their teaching through technology.
+31.000 available exercises
Thousands of gamified exercises to help your students learn English.
Complete learning path
Work with a learning path based on the Common European Framework of Reference for Languages (CEFR).
Lesson planning
Access real-time reports of the activities performed and identify the educational needs of your students.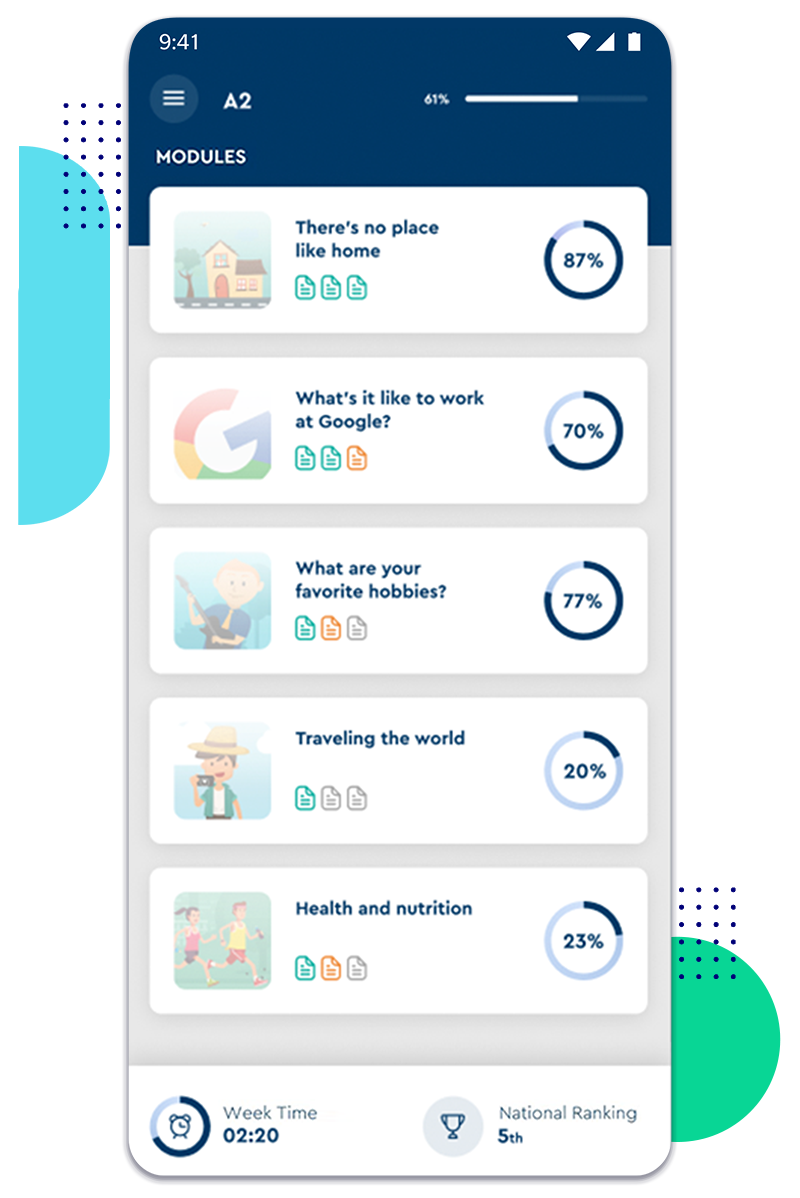 Raise the bar for your english classes
MORE FLEXIBLE HOURS
Our digital courseware can be accessed by your students 24 hours a day, 7 days a week.
FOCUS ON SPEAKING
With our innovative pronunciation assessment tool, your students lose their fear of speaking English and improve their speaking skills at an amazing speed.
SERVE MORE STUDENTS
Scale your classes with thousands of exercises available so that you can serve more students without losing teaching quality.
PLACEMENT TEST
We have a placement test that is aligned with the CEFR, which ensures that your students study the content according to their level of proficiency.
CERTIFICATION
Certificate at the end of each course: you can print or send the digital version to your students to prove their proficiency level on our platform.
PERSONALIZED TEACHING
Analyze your students' performance data, identify their difficulties, and target your lessons.
Unlock your student's speaking skills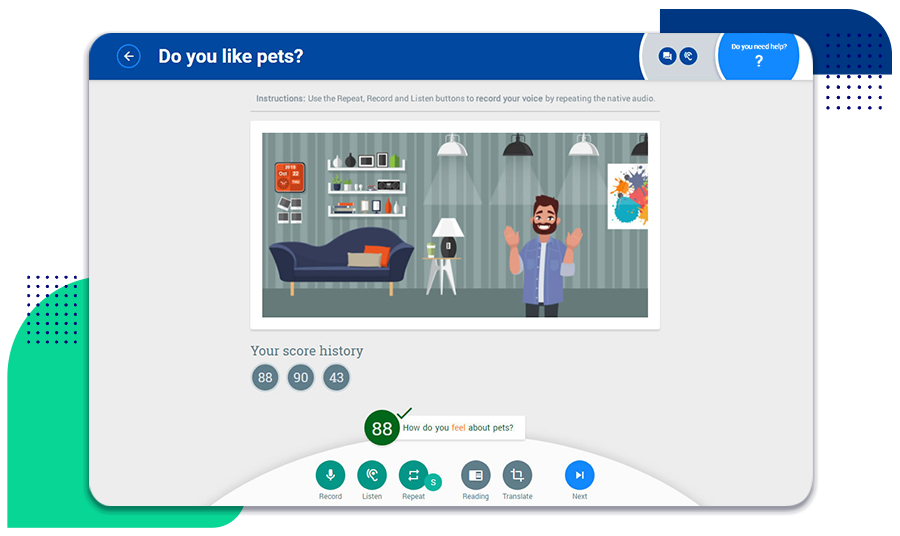 Our course material has an advanced technological tool that provides detailed pronunciation feedback
The student records their own voice speaking English and our tool compares their pronunciation with that of native speakers, assigns a score and points out areas where the student needs to improve.
The student can also listen separately to each word recorded by them and by the native speaker, identifying how to improve their pronunciation.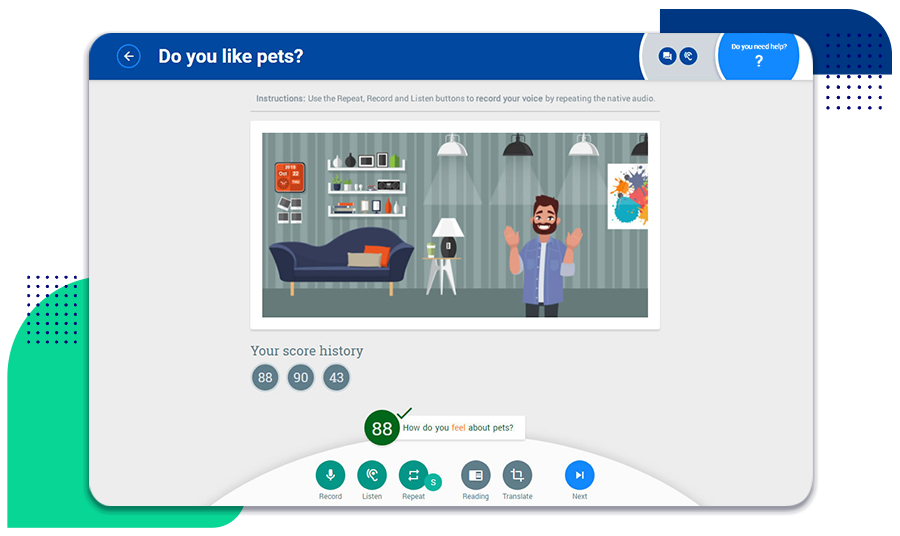 Want to know more? Talk to one of our representatives.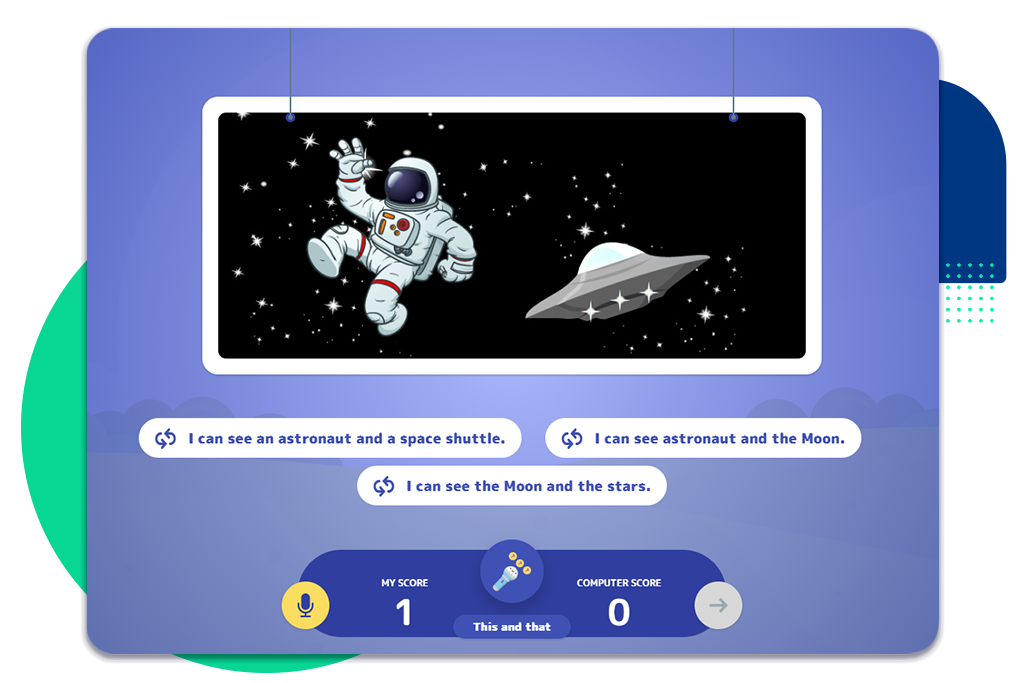 Children from 6 to 10 years old
Innovative English teaching material for children, focused on the development of speaking and listening skills.
Playful teaching material
Fully gamified, Flexge Kids involves children in playful and interactive activities.
Content of Pre-A1 and A1 levels
Benefit from a learning path based on the Common European Framework of Reference for Languages that will take them up to level A1.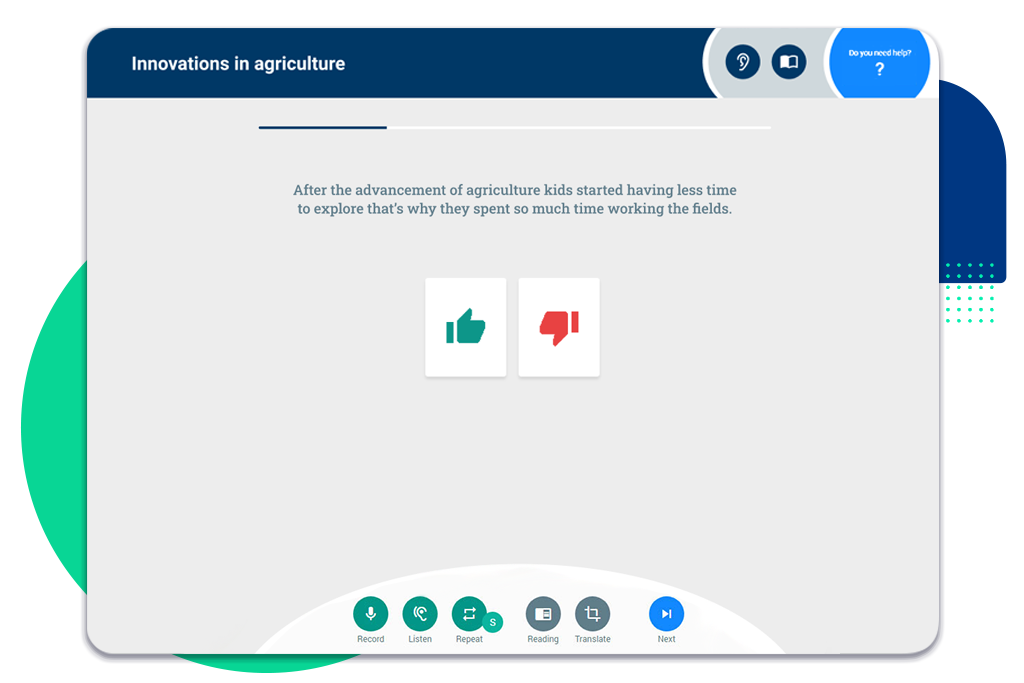 Focus on listening and speaking
It is differentiated by the use of technology oriented to the development of conversational skills in English.
Complete learning path
Work with a learning path based on the CEFR, in which your students advance as their level of proficiency evolves.
Different types of exercises
Our digital courseware has dozens of types of exercises that work on all four language skills, which makes studying less tiring and repetitive.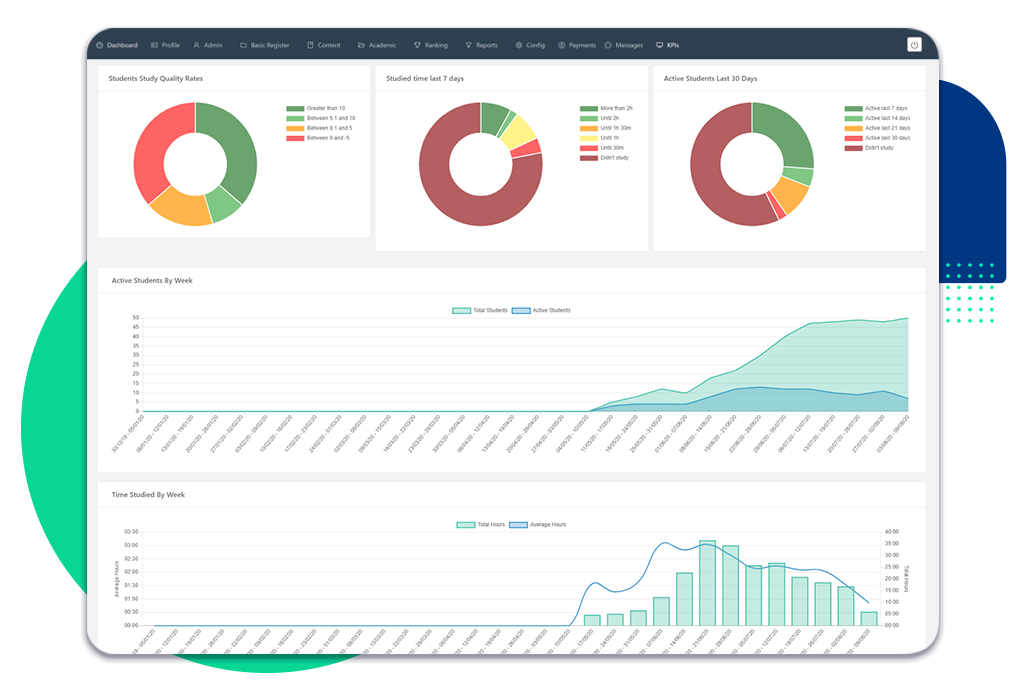 Real-time reporting
Access reports on the evolution in the teaching-learning process of each student, with data that can guide your work.
Follow-up
Based on the reports generated, identify the needs that the student has and target your classes to go deeper into these contents with them.
Manage classes and students
Manage individual lessons or student classes as the pedagogical manager, registering and consulting information whenever you want.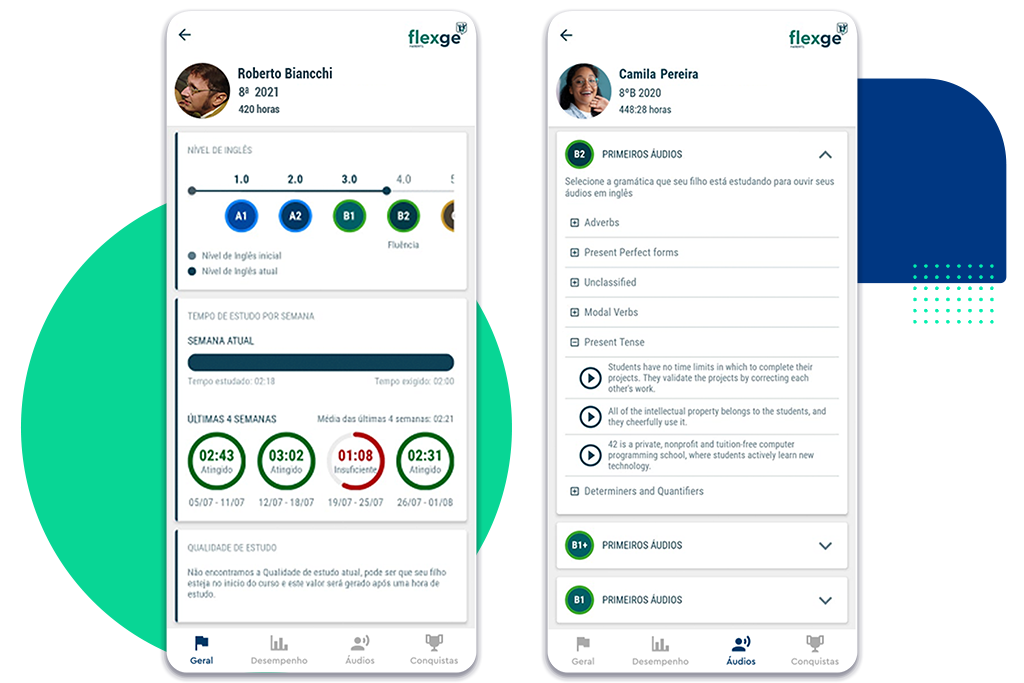 Exclusive app for parents
Provides access to the app we have developed for parents and guardians and involves the family in the teaching-learning process.
Access to the children's audios
Provides tutors with audios of students speaking English and allows parents to observe students' progress.
Customized reports
Gives access to numerous reports of student performance in comparison to international language proficiency metrics.
What our partners say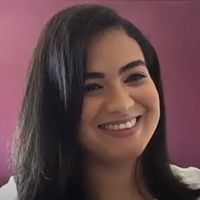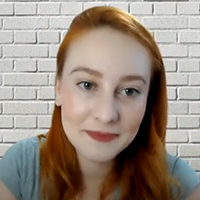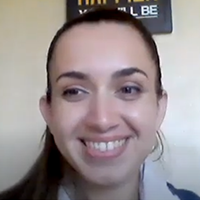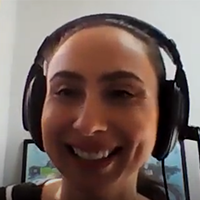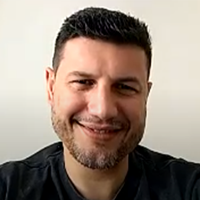 Laila Bezerra
Private Teacher
"I was kind of lost, I wanted to leave the classroom and I wanted to start something that was really mine, have my own business, and then after researching a lot, I discovered Flexge, and it saved my life because it gave me the support to know that I could offer something different to my students, something that could really add a lot to my business and something that differentiates me, that would be very attractive, very dynamic, as it really is."
Karolliny Eloi
Private Teacher
"After a week, I started getting feedback from my students who were super excited, "Wow, this is the best thing that ever happened!" and they would take screenshots and start posting on social media and tagging me. Because of that, through them, I started to get more students."
Sheila da Cruz
Private Teacher
"Flexge is the main tool of the course because I can't be with my students 4 hours a week teaching them. As much as my role is extremely important, taking away their doubts, giving them extra content in class and practice, without the Flexge app, I would not have been able to put together this program that I created."
Daiana Bischoff
Private Teacher
"One of the things that caught my attention at Flexge is the way to get all my student's information in a clear way. I just go into the administrative system and I can see what the student needs to improve and that helps me a lot when I go to prepare my personalized class."
Lucca Pietrobon
Private Teacher
"People really see Flexge as a differentiator. When it comes to hiring a private teacher, I end up standing out because I have an online portal for the student, who can go there and do interactive activities. And that's really, really cool!"
Charles Campos
Teacher
"The speech recognition function of the platform greatly facilitates the work that the teacher alone wouldn't be able to do, not even in a one-on-one class. The student will find it easier to correct their pronunciation and will be much more aware that they have to improve. Keep them thinking 'I have to improve my pronunciation', or 'why don't I ever get 80 points', is very good!"
Try our digital learning material!
Demonstration
Fill out the form below to access the Flexge platform.