Teach English Efficiently
Flexge provides you with innovative and dynamic English learning courseware, designed to meet the unique needs of your school, university or company.
Through our hybrid methodology, which combines technological innovations and classroom coaching, Flexge provides you with differentiated materials for schools and universities in order to achieve personalized English language teaching.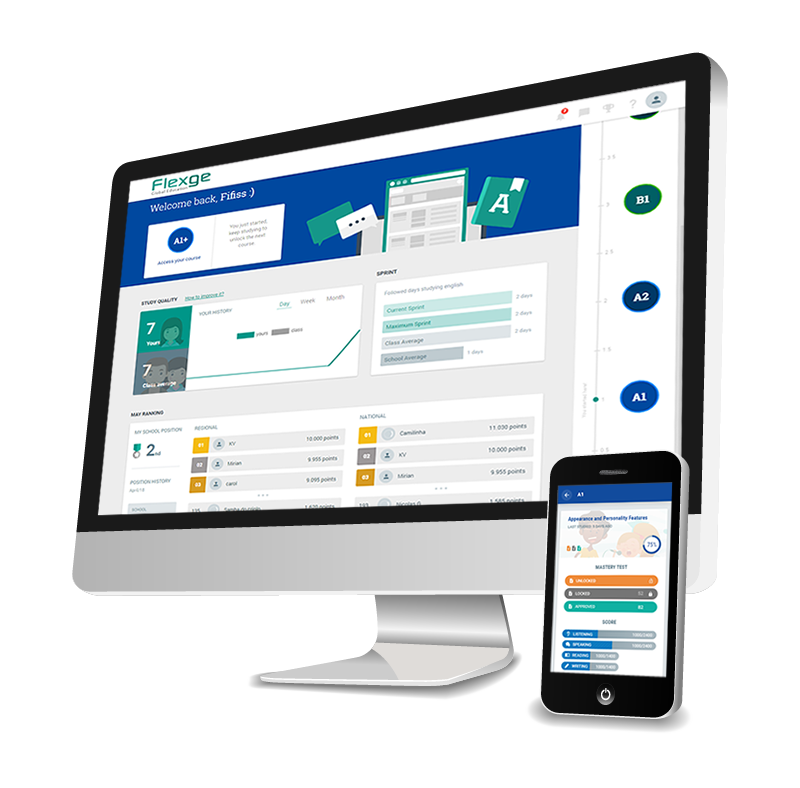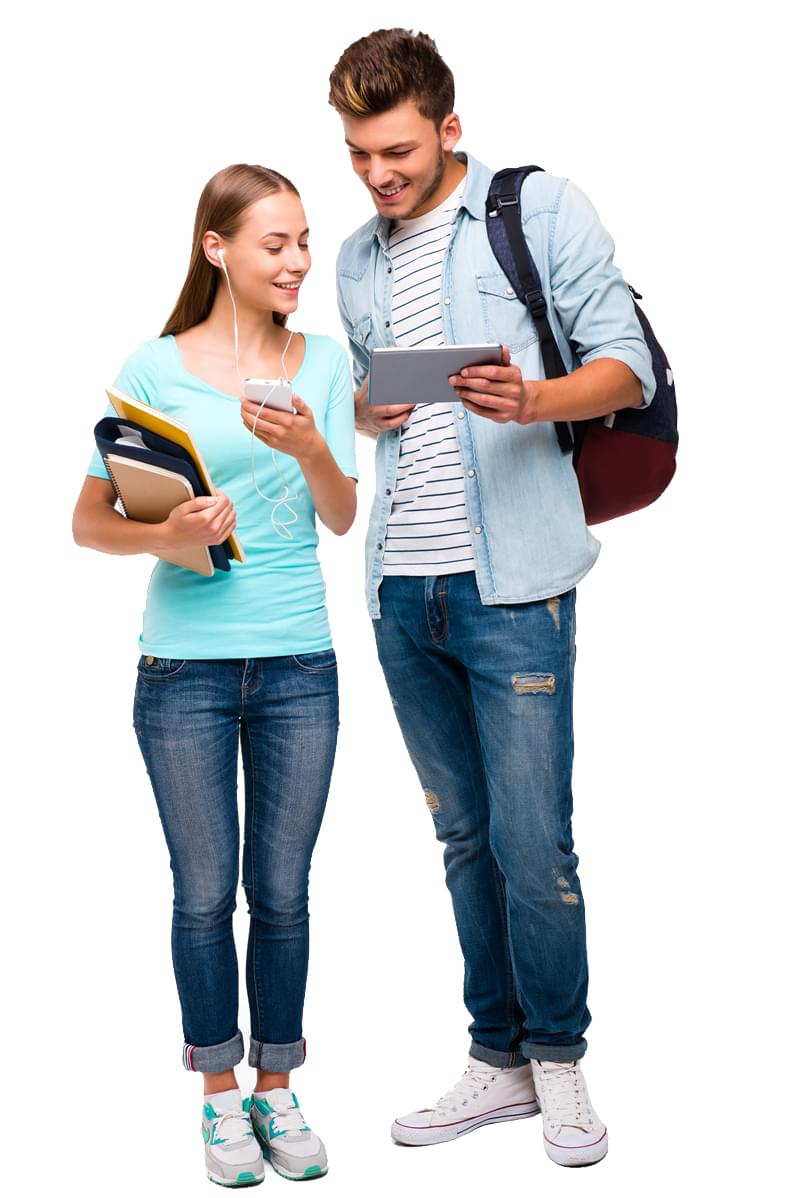 01.
About Flexge
A methodology that works
We are a fully interactive English language teaching methodology, created to serve Language Centers, Companies and Educational Institutions in the Primary, Middle and Higher segments.
Blended Learning
Flexge is based on a hybrid educational foundation (blended learning), which allows you to customize learning experiences by combining online and in-person educational approaches.
Active Learning
At Flexge students study English actively. Through an advanced speech recognition system, students speak English right from the first unit and the system compares their pronunciation with that of over 100 natives from different locations.
Flipped Classroom
The Flexge platform challenges students to continually study English outside the classroom. This way, class time can be entirely dedicated to conversational dynamics and coaching support.
02.
Teaching English
Courseware that teaches
all 4 linguistic skills
Flexge is a complete solution because it develops all 4 language skills in the classroom environment, providing an effective solution to acquiring English language fluency.
Qualify your institution through technological innovation and achieve excellence in your results!
Listening
Students are exposed to thousands of audios recordings of native speakers, ensuring an undistorted and accurate listening experience.
Speaking
Through our Speaking Recognition system, the platform recognizes the student's speech and immediately gives back feedback on their pronunciation.
Reading
In every course students have access to reading passages with different types of exercises where their grammar knowledge is put to the test.
Writing
In our courses, students develop their writing skills through increasingly complex writing exercises.
03.
Our Tools
English that can be measured
Flexge provides you with the necessary tools to monitor your English courses within your institution in a detailed and personalized way!
Study Quality
Study habits are continually assessed while students are guided towards preferred learning strategies.
Pronunciation Assessment
You will have access to student performance reports based on Speaking Recognition exercises.
Content Analysis
Students are subject to grammar assessments within the course, facilitating teaching and tutoring.
Stages of Development
You can measure student progress according to international fluency levels.
Study Records
Flexge keeps a history of every activity accessed by a student, generating student, class and school reports.
Tests and exercises
All exercises and tests are graded, generating performance data.
Automized Report Card
Within the administrative platform each partner can customize their own assessment parameters, adjusting evaluations to their school's needs.
Placement Test
Our Placement Test is aligned with international parameters (Common European Framework of Reference for Languages).
Certification Test
At the end of each course students take certification tests, which assess their English level: A1, A2, B1, B2, C1, C2.
Try out our platform now!
04.
Our solutions
Find out what we can do for you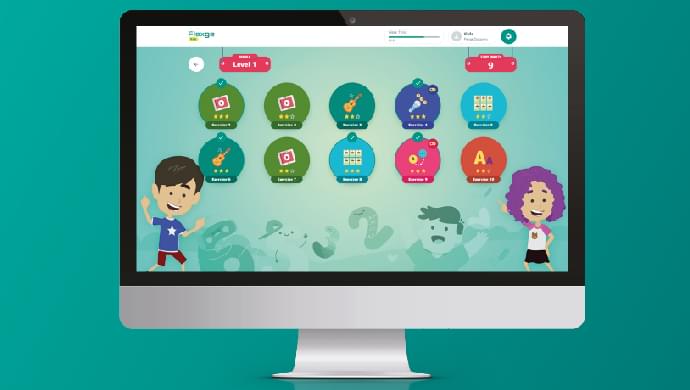 Elementary School
Deliver the best English learning solution for 6 - 10-year-olds. Flexge Kids was built as an interactive gaming system, using animated characters in videos and cartoon content.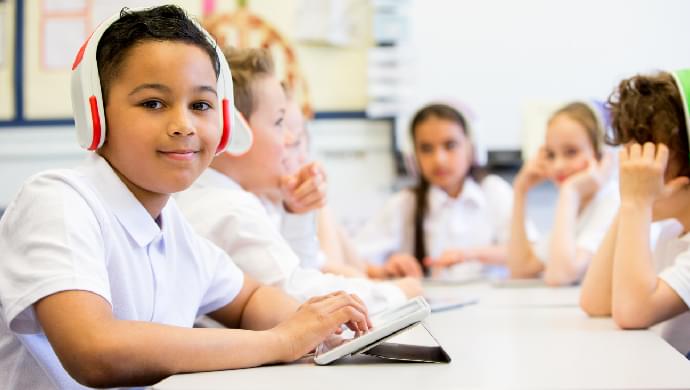 Junior High
Make English teaching effective within your institution. Flexge's content is tailored to each student's needs, focusing on the speaking and listening skills which helps students develop fluency more confidently.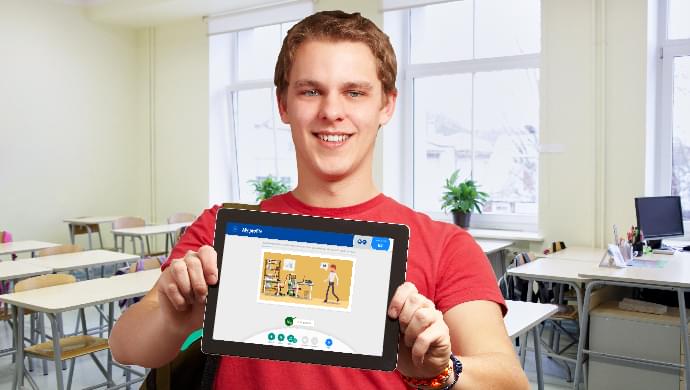 High School
Prepare your students for their High School National Exams with a methodology that will effectively lead them to English fluency. With English proficiency, students achieve higher grades in college entrance exams and international examinations.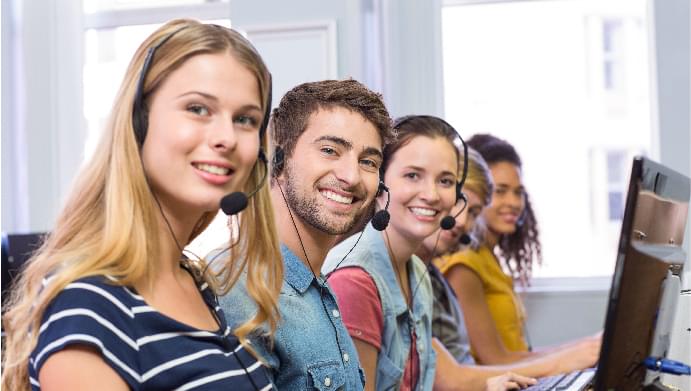 School Curriculum
Add Flexge to your school curriculum, allowing students to access interactive gaming content to reach English fluency.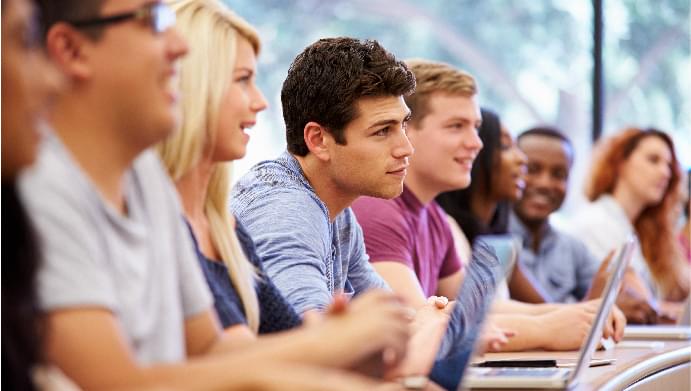 Language Center
Set up a language center within your university with Flexge, using an active learning methodology that combines technology and the classroom.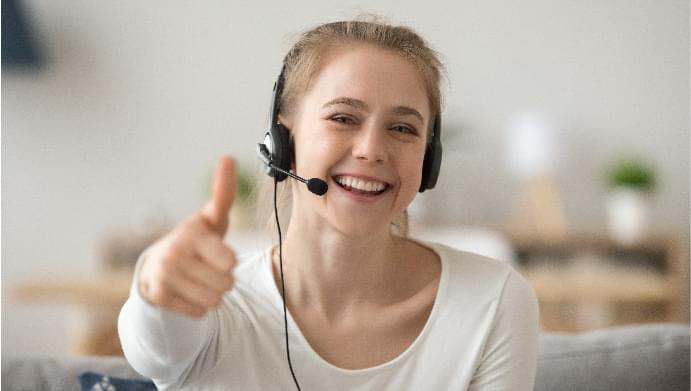 Extension Courses
Offer your students the chance to acquire English fluency through hybrid extension activity models, with flexible study hours and international standard certifications.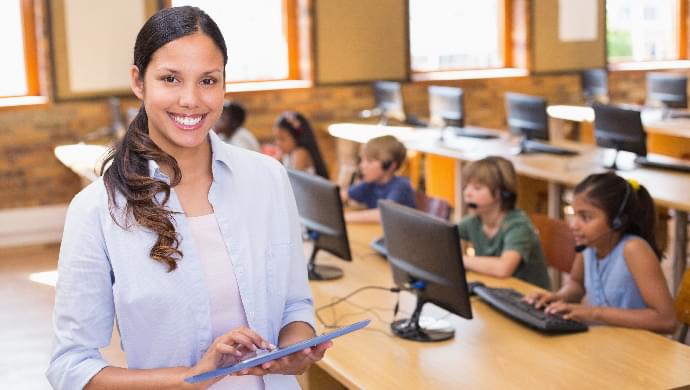 Lesson Plans
Access lesson plans for all courses offered by Flexge. With our solution, you will receive full support to in gui your students through their courses, leaving content development to us.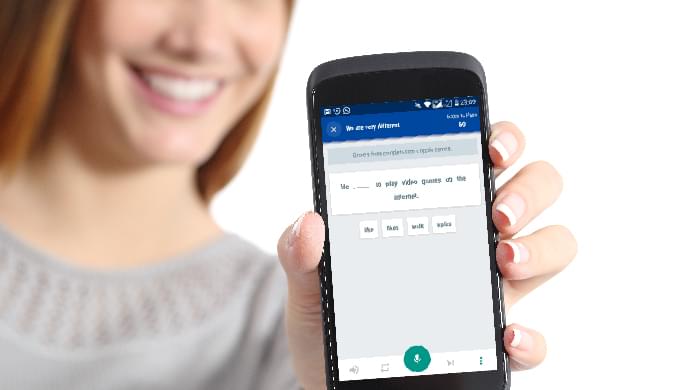 Professional English
Teach English through the very latest in education by incorporating technology into the teaching/learning process. Your students will be encouraged to study outside the classroom as well, further preparing them for the job market.
White Label LMS
Offer the most complete English learning solution using your logo. With our white label, all Flexge features are branded to your company so your clients only interact with your visual identity.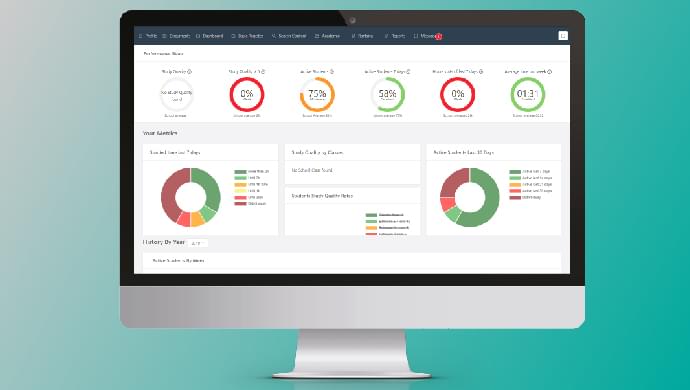 Learning Management System
With Flexge you can provide interactive and gamified content to your private tutoring students, and have access to a map of all their needs in speaking, listening, writing and reading.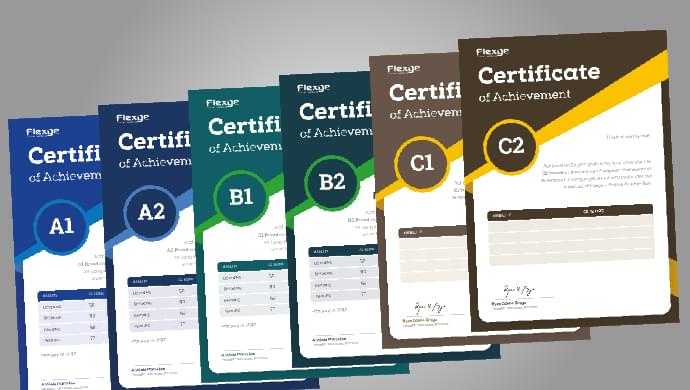 International Standard Certification
Set fluency goals for your students, offering tests and certificates that aligned with the international language standards of the Common European Framework of Reference for Languages (CEFR).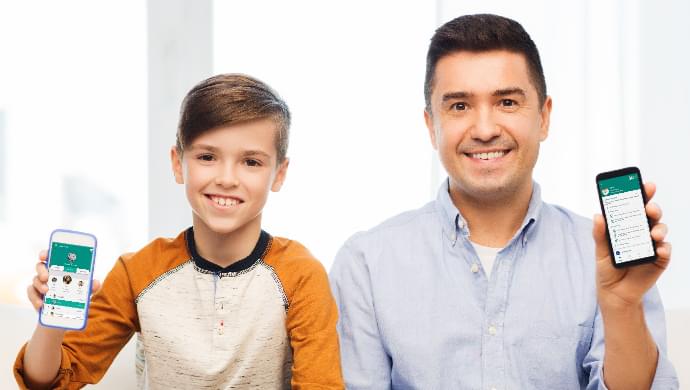 Parent App
You can count on na school parent app that allows them to track student performance in English, study time and audios. With Flexge the whole family can be a part of your one-on-one lessons, which increases the effectiveness of the teaching/learning process.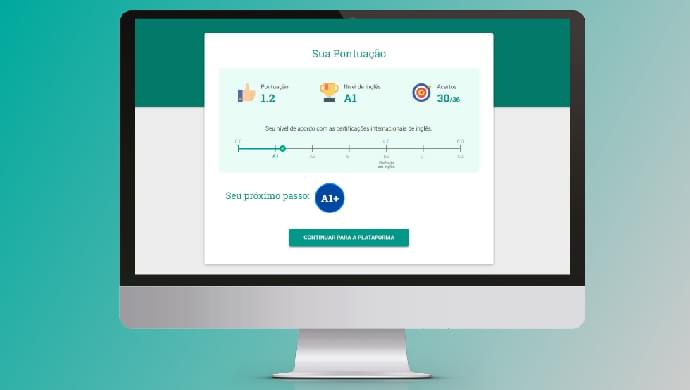 Placement Test
You can easily and effectively assess the English level of your staff at a low cost and in alignment with international language standards (Common European Framework of Reference for Languages - CEFR).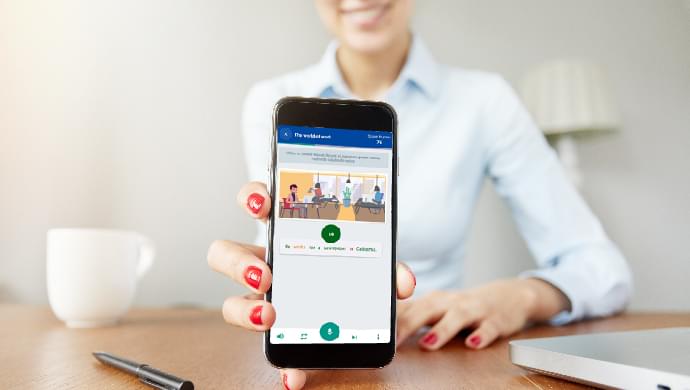 Benefits for Employees
Qualify your business by providing your employees with a complete customized English course from beginners level to advanced. Flexge has the complete solution to making your company truly speak English.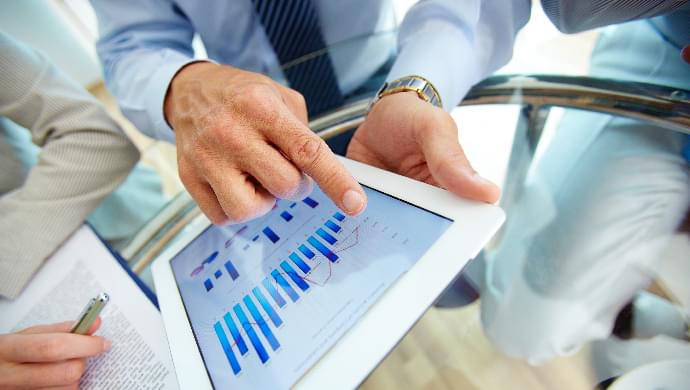 Management Reports
Flexge is equipped with a complete management system where school managers can track teacher performance and engagement through educational metrics and management reports.
05.
What sets us apart
Complete Solution
Our solutions serve the different actors in the educational process, aiming to acquire fluency in English in a diverse environment such as the classroom.
06.

Flexge Kids
English Teaching
for children
Flexge has a complete English language teaching solution for children from ages 6 to 10. We work with animated characters, songs, games and cartoons, designed with the educational purpose of introducing the English language to children.
Flexge Kids is ideal for schools looking to teach English through fun and dynamic content, which focuses on developing written and spoken English since early childhood years.
Check out our English learning platform!
07.
White Label
Our solutions
your brand
Offer our English teaching methodology under your own brand. Take advantage of our technology without having to invest in research, software development, and content production.
With Flexge's White Label solution you can place your logo and colors on all of our platforms, and use your own domain. All this so you can focus on what you do best: teaching!
08.
Certification
International Standard English Certification
Flexge's methodology is aligned with the Common European Framework of Reference for Languages, comprised of levels A1, A2, B1, B2, C1, and C2.
Certification courses added to your school's curriculum
Imagine your students learning English through a customized course, aligned with their English proficiency level and following international parameters. They will also receive certificates for every level they earn! This is what Flexge can offer you and your students.
By including Flexge in your school curriculum, students will be able to achieve fluency by taking regular proficiency assessments in listening, reading, speaking and writing.
Common European Framework of Reference for Languages
Flexge's educational content and certification tests are aligned with the Common European Framework of Reference for Languages. This way, you can create a motivating environment where students always have clear goals to pursue and new proficiency levels to achieve.
09.
Mobile
Study English anywhere
Students can study Flexge on computers, cell phones, and tablets, this increases student engagement and improves educational outcomes.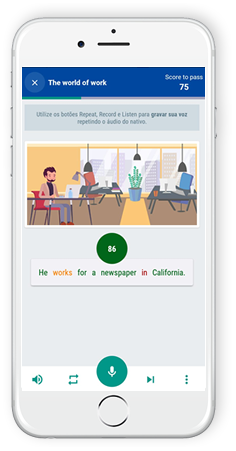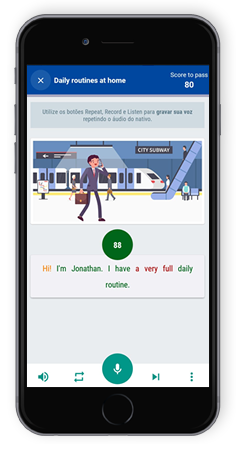 Speech Recognition
Pronunciation feedback is presented in different colors, these colors differentiate words that are spoken correctly from those that need work. Flexge compares the student's pronunciation to over 100 different accents of native speakers and generates reports based on this analysis.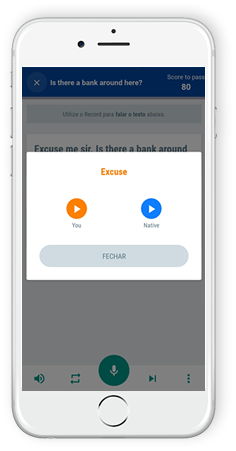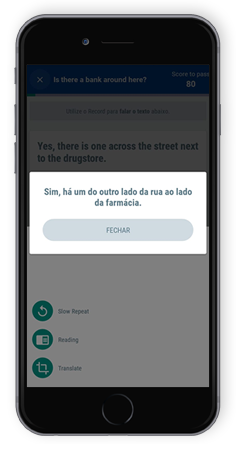 Support Tools
In order to help students succeed Flexge uses a number of educational tools, such as pronunciation feedback through a system which works by comparing a student's speech to a native speaker's speech, word by word; a slow-motion option; access to transcripts, as well as translated transcripts, as a last resort.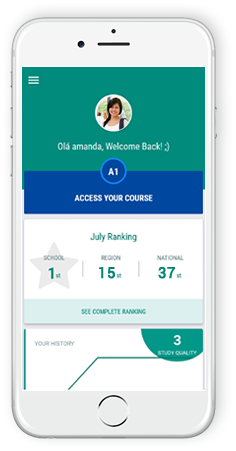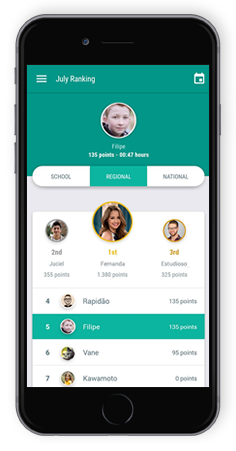 Gamification
To ensure student engagement, the Flexge platform is fully gamified. It is based on a points system which rewards study time and performance. Students anonymously compete with each other, and the first 10 ranked students in the school. region and country receive achievement certifications.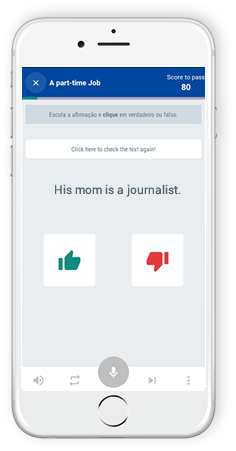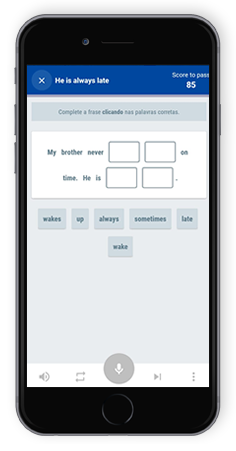 Different types of Exercises
Flexge offers dozens of different types of exercises enabling students to develop all four linguistic abilities, i.e., listening, speaking, reading and writing.
10.
Screens
Inside view of the system
11.
Validity
Verify your certificate's validity
Enter your Flexge certificate validation code in the field below for confirmation.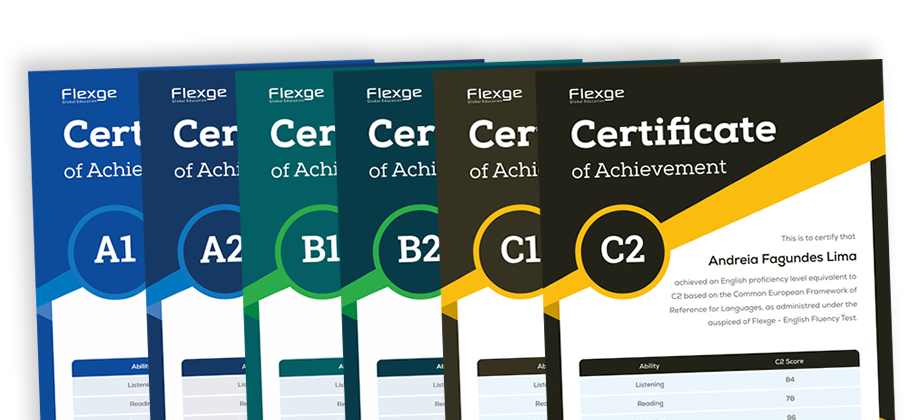 12.
Contact
Contact us now for more information.
Flexge is available to help your institution boost your students' English proficiency levels. If you are interested in becoming a Flexge partner, please fill out the form on the right to schedule a presentation of our solutions.
No certificate found for code entered.
Close